The AADLA Spring Show - May 1 - 5, 2013
Location: The Park Avenue Armory, Park Avenue at 67th Street, New York


Clockwise from top left: Tiffany Studios
Dragonfly
Table Lamp, circa 1906; Albert Paley Candlesticks, 1998; Tiffany Studios Monumental Favrile Glass Vase with Lily Pad Decoration, circa 1894-95; Harriet Frishmuth,
The Vine
(detail), 1921.
Press Release
You are invited to join us in
Booth 110
at the Art and Antique Dealers League of America's 2013 Spring Show, to be held at Park Avenue Armory on Park Avenue between 66th and 67th streets, New York, New York, where we will be exhibiting from May 2 - 5.
(Please note that the gallery will maintain regular business hours during the run of the show - no admission required!)
The AADLA Spring Show Hours:
Thursday, May 2nd • 11 am – 7:30 pm
Friday, May 3rd • 11 am – 9 pm
Saturday, May 4th • 11 am – 7:30 pm
Sunday, May 5th • 12 noon – 6 pm
Click the image below to print and fill out your complimentary E-Ticket to the Spring Show. Present the ticket at the entrance of the Park Avenue Armory to obtain complimentary admission for two for the duration of the show: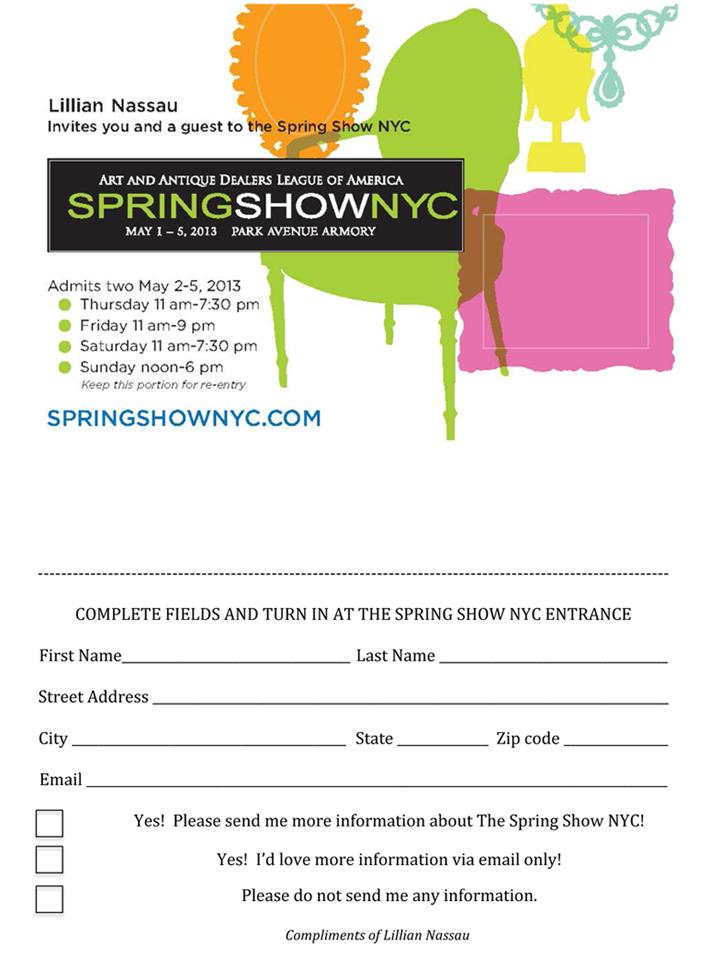 On display in our booth will be a fresh selection of Tiffany Studios lamps, 19th and 20th century American and European decorative arts, as well as Mid-Century Modern furniture and design.
For more information about the Spring Show please
click here
to visit their website.
The Art and Antique Dealers League of America (AADLA) is pleased to announce that the 3rd edition of their Spring Show NYC, open to the public May 2-5, 2013 at the Park Avenue Armory, Park Avenue and 67th Street. The ASPCA® (The American Society for the Prevention of Cruelty to Animals®) continues to be the fair's opening night beneficiary with an invitation-only preview Wednesday, May 1. 1stdibs.com, the premier online marketplace for purveyors of luxury goods, is the show's sponsor.
Honorary Co-chair Amy Fine Collins at Spring Show NYC 2012 Opening Night
"1stdibs is delighted to continue its sponsorship for the 3rd edition of the AADLA Spring Show NYC and to support the ASPCA, the opening night beneficiary," said Michael Bruno, founder and president, 1stdibs. "It's been very gratifying to see the growth of the Spring Show since its inception three years ago and we are proud of our association with the dealers and the ASPCA."
"As we head into our third year, we are delighted to welcome back our partner 1stdibs and the ASPCA as our beneficiary," said Clinton Howell, the League's president. "We are particularly gratified to have the enthusiastic support of so many of new and returning dealers."
Howell also announced that Carolyne Roehm, the celebrated style arbiter, horticulturist and prolific author, will design the flowers throughout the exhibition hall. "If there is one person who embodies elegance, sophistication and taste, it's Carolyne Roehm," he said. "We are very fortunate to have enlisted her extraordinary talents to create an unforgettable ambiance for the Spring Show."
Ms. Roehm also joins the Spring Show as an Honorary Co-Chair, joining Amy Fine Collins, Somers and Jonathan Farkas. Co-Chairs include Michael Bruno, Mario Buatta, David Patrick Columbia, Robert Couturier, Celerie Kemble, Edward Lobrano, Brian McCarthy, Miles Redd, Ellen and Chuck Scarborough, Michael Smith, Bunny Williams, and Vicente Wolf.
Showcasing an astonishing array of wares - from ancient artifacts to fine furniture to modern masterworks on canvas and mid-century decorative arts—the Spring Show NYC has quickly established itself as a not-to-be-missed important art fair destination for collectors, curators and interior designers in May.